CELEBRATING COURAGEOUS JOURNALISM
NAT NAKASA JOURNALISM AWARD SPONSORED BY SANLAM -2022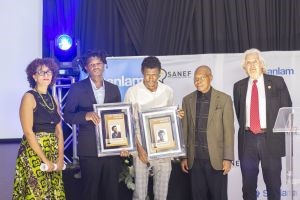 Image: Nat Nakasa Judge Crystal Orderson (Left) poses with winners Cebelihle Mbuyisa and Magnificent Mndebele, and fellow judges Joe Thloloe and Peter Sullivan
The South African National Editors' Forum (SANEF) last night awarded the Nat Nakasa Award for courageous journalism to two former New Frame journalists, Cebelihle Mbuyisa and Magnificent Mndebele, at an awards function held in Durban, KwaZulu-Natal. New Frame is now defunct.
The awards, sponsored by Sanlam, are now in their sixth iteration since the sponsorship started in 2017.
"The duo's work at New Frame kept the story of the uprising in eSwatini alive for South African audiences," said one of the judges, veteran journalist, Chrystal Orderson. She serves on the panel with two other legendary journalists, former The Star Editor-in-Chief, Peter Sullivan, and former Press Ombudsman, Joe Thloloe.
The awards were addressed by retired Judge, Dr Navi Pillay, who serves on the International Commission on Information and Democracy, which affirms the principles of media freedom, safety of journalists and media sustainability.
Pillay said all governments, including South Africa, must take action to promote a free and independent press which is instrumental to combat disinformation, build public trust and advance the promotion and protection of human rights. "I would say that such action must also protect media sources and whistle-blowers," she said.
She said the world honours courageous journalists and that SANEF's Nat Nakasa Awards fall into the spirit of celebration of brave and courageous journalists and expresses public gratitude for their work.
"This is what counts. The appreciation of the constituency to whom you are accountable. The silencing of journalists is a loss to society, honouring them is a gain," Pillay said.
The Nat Nakasa Award for Community Media went to Shiraaz Mohammed for his body of work, which included spending time with health care workers during the height of the COVID-19 pandemic. Judges noted that Mohammed was working on his own and producing his work without the backup of a big media corporation and putting his own life at risk.
As part of the awards, SANEF's members get to nominate a fellow member for the Stephen Wrottesley Award, dedicated to honour members whose commitment in the journalism field goes beyond the call of duty. This year it was awarded to media freedom activist, former editor, and former SANEF's management committee member, Angela Quintal. She is now in charge of the Africa programme at the Committee to Protect Journalists, based in New York.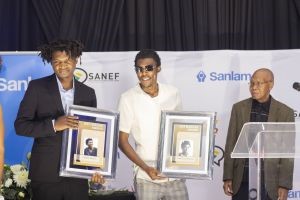 Pearl Majola spoke on behalf of Sydney Mbhele, Group Executive: Brand saying Sanlam considered these awards to be more than a celebration but an endorsement of media freedom. They were about integrity and the exceptional bravery of journalists who will stand for the truth even at the risk of threats to their very being.
"We believe in and support robust journalism as one of the strongest pillars of our democracy and so we continue to commit our support for these awards," said Majola
NAT NAKASA JOURNALISM AWARD SPONSORED BY SANLAM -2021
Winners of the 23rd Nat Nakasa Journalism Awards, sponsored by SANLAM, were announced at a gala dinner at The Trevor Huddleston Memorial Centre in Sophiatown on August 14. The flagship event of the South African National Editors' Forum (SANEF) awards journalists who have shown courage and tenacity in the face of enormous challenges and displayed a commitment to serving the people of SA with integrity, resisted censorship, and striven for truth and accuracy in their reporting.
The winner of the Nat Nakasa Award for 2021 is Styli Charalambous, the CEO and co-founder of Daily Maverick. Since its inception the publication has become one of the leading online and a printed publication in SA, in part because of the commitment and passion of the former chartered accountant. Styli says he is now "fully reformed and passionate about the media business".
This year, the Nat Nakasa Award Community Media was made to Nathan Geffen and Raymond Joseph for their work in the community news agency GroundUp. Since 2018, this small community news agency has persisted with a series of investigations into the NLC that have uncovered corruption, maladministration, and nepotism.  The news agency's work in general — and its reporting on the lotteries scandal in particular— provides a sterling example of good community journalism in action.  Editor Geffen started GroundUp ten years ago, as a donor-funded community news agency focusing on social justice issues.
The coveted Stephen Wrottesley Award went to Mahlatse Mahlase, chairperson of SANEF 2016 – 2020 and current secretary-general. The award was presented "for her passion, professionalism and commitment to SANEF and her dedication to media freedom and ethics." Mahlase embodies what SANEF stands for: an unwavering passion for media freedom and a deep commitment to make South Africa a better and more equal place for its citizens, through journalism. Nominated by her peers, Mahlase steered SANEF to financial and organisational stability and has led SANEF in its principled campaign against prevailing hate speech and online abuse against journalists. She championed SANEF's activism to push back against the abuse of particularly women journalists by politicians and online trolls.
In addition, SANEF recognises five community radio stations this year who have shown determination and bravery in serving their communities: Alex FM; Westside FM 98.9 MHz; Mams Radio; Intokozo FM and Kasie FM 97.1. The prizes were awarded from the SANEF Media Relief Fund. Click here for more info.
NAT NAKASA JOURNALISM AWARD SPONSORED BY SANLAM -2020
"The South African National Editors Forum (SANEF) has awarded its coveted Nat Nakasa Award to South Africa's entire body of journalists.
The announcement was made on Saturday 22 August with the airing of a documentary commissioned to commemorate the vital role journalists play in our society – especially, in light of the harsh circumstances journalists as individuals find themselves in during the coronavirus pandemic.
The documentary, which was filmed in recent months while the country still remained under national lockdown regulations, shone a light on the courageous work done by South African journalists on the frontlines in a time of great unease and continued stress due to the global pandemic.
Please click the link to watch the documentary:https://youtu.be/7cI1As7nkAg
Following the documentary, SANEF hosted a webinar on Wednesday, 26 August 2020, as a follow-on from the documentary to discuss the key issues raised in the film.
The webinar, "Media and journalism under threat: What can civil society and corporate SA do?" provided a platform for key individuals to debate and discuss the main challenges currently faced by our media, including: the severe threats to the media that existed before Covid-19 and how they have now been further exacerbated; the implications of a weak media sector for our democracy, as well as addressing the role of the media in our society; the need for corporate and private sector support; and the impact that the pandemic has had on an already weakened industry.
Watch the webinar here: https://www.facebook.com/watch/?v=2697064203885243&extid=JjlQ3Mp1cZkEgXmw
The 2019 recipient of the award was Qaanitah Hunter.
Background to the Nat Nakasa award
Nat Nakasa was a prominent South African journalist and writer who died in exile in 1965. The annual Nat Nakasa award is awarded for courageous and brave journalism. The award is for recognition of ethical conduct and highest standards of media practice
The award, which is strictly for journalists, recognises a journalist who has:
> Shown integrity and reported fearlessly;
> Displayed a commitment to serve the people of South Africa;
> Resisted any censorship; and
> Shown courage in making information available to the SA public.
The winner is selected by a panel of judges on the basis of nominations submitted by the public. The judges include Peter Sullivan, Joe Thloloe and Crystal Orderson.
2018 Branko Brkic
Special Mention: #GuptaLeaks team from amaBhungane, News24 and Scorpio – Pauli van Wyk, Lester Freamon, Adriaan Basson, Richard Poplak, Adi Eyal, Micah Reddy, Susan Comrie, Angelique Serrao, Stefaans Brummer, Antoinette Muller, Marianne Thamm, Sam Sole, Tabelo Timse, Pieter-Louis Myburgh, Craig McKune, Lionel Faull, Rebecca Davis and Sally Evans.
2016 SABC8: Lukhanyo Calata, Thandeka Gqubule Mbeki, Suna Venter, Foeta Krige, Krivani Pillay, Vuyo Mvoko, Jacques Steenkamp and Busisiwe Ntuli
2011 No Winner
Special Mention: Anton Hammerl
2004 Buks Viljoen – The Lowvelder
2003 Debbie Yazbek – The Star
Special Mention: David Macfarlane – Mail & Guardian
2002 Justin Arenstein – African Eye News Service
Special Mention: Elise Tempelhoff – Beeld
Martin Welz – Noseweek
2001 Mzilikazi wa Africa – Sunday Times Investigations Team
Andre Jurgens
Jessica Bezuidenhout
2000 Joint Winners: Mathatha Tsedu and Wolfram Zwecker
Special Mention: Baldwin Ndaba
Background to the Award
Nat Nakasa was a South Africa journalist who died in exile at the age of 28 after a brief but dynamic career characterised by his journalistic courage and integrity. In 1964 Nakasa left South Africa for the US to take up a Nieman Fellowship at Harvard University. In doing so, he relinquished his South African citizenship. After moving to New York the following year, he suffered increasing homesickness and isolation, which contributed to his suicide on July 14 1965.
Born Nathaniel Ndazana Nakasa in 1937, he spent the major part of his adult life as a journalist in Johannesburg, a regular contributor to the Golden City Post, an assistant editor of Drum and later as the first black columnist on the Rand Daily Mail. At the height of his career, in 1963, he founded a literary tell-it-like-it-is journal called The Classic. Nakasa's personal style gained a substantial following, although his middle-of-the-road views in a divided South Africa were often a little too liberal for some of his fellow black journalists.
The 1960s were dark days for black South African journalists when repressive apartheid laws stifled a decent day's work, never mind any glimmer of creativity. For many, the only way was exile to foreign lands, far away from the oppression and humiliation that was home. As Essop Patel says in the introduction to The World of Nat Nakasa, "The creative output of the Sophiatown Renaissance came to an end as the bulldozers rolled in."
But out of the rubble emerged a new kind of black journalist elite and for the young and ambitious Nakasa, fresh in Johannesburg from Durban, these were the formative years.
Drum journalist Can Themba remembers Nakasa in the early days of his career. In a tribute to Nakasa titled "The Boy with the Tennis Racket" Themba recalls, "He had a puckish, boyish face, and a name something like Nathaniel Nakasa. We soon made him Nat."
Nakasa was different from the start. Said Themba, "He came, I remember, in the morning with a suitcase and a tennis racket – ye gods, a tennis racket! We stared at him. The chaps on Drum at that time had fancied themselves to be poised on a dramatic, implacable kind of life. Journalism was still new to most of us and we saw it in the light of the heroics of Henry Nxumalo, decidedly not in the light of tennis, which we classed with draughts."
Many recall Nakasa and good friend Lewis Nkosi being bookish and serious – not the carousing, drinking shebeen aficionados the rest of the Drum team was notorious for in those days. Those were heady days for Nakasa and his black colleagues, a group of maverick journalists charting new territories without any real role models to look up to. Although times were bitter, for Nakasa it was all about crossing boundaries: "There must be humans on the other side of the fence; it's only we haven't learned how to talk," he said.
Says Patel, "Nat Nakasa focused his attention upon the idea of common experience. He desired a truly South African nation."
In a piece titled "It's difficult to decide my identity", he wrote, "My people are South Africans. Mine is the history of the Great Trek. Gandhi's passive resistance in Johannesburg, the wars of Cetewayo and the dawn raids which gave us the treason trials of 1956. All these are South African things. They are part of me."
Wally Serote stated in an interview last year, "To quote Tutu … Nat Nakasa was a rainbow man.  Before the rainbow was allowed."  His column in the Rand Daily Mail saw him hopping the colour bar and having a voice on the other side of the fence.  In "Between Two Worlds" he wrote, "Some people call it 'crossing the colour line'. You may call it jumping the line or wiping it clean off. Whatever you please. Those who live on the fringe have no special labels.  They see it simply as LIVING."
In 1963, he saw the way clear to put out his own literary contribution in the form of The Classic. The magazine's main objective was to encourage "…those writers with causes to fight for, committed men and women who look at human situations and see tragedy and love, bigotry and common sense for what they are". Good friend and author Nadine Gordimer says of those days, "Nat's approach to The Classic was serious and yet light-handed, gay; candid and unflustered. He was a clever young newspaperman but had no literary background or experience – yes. There was not enough money for the venture and there were endless practical difficulties – yes. Nevertheless, he felt that day-to-day journalism floated, like oil indicating the presence of a submarine, on the surface of African life, and he wanted to make soundings of his own. He asked for help, and what's more, he did so aware that help more often than not must take the form of criticism, and in the self-knowledge that he could take that, too."
Certainly, conditions were not improving in South Africa and while Nakasa's career was gaining ground despite a system that dictated the opposite, the global village was calling with the voice of freedom. In 1964, Nakasa was awarded the Nieman Fellowship to read journalism at the University of Harvard. Of course, obtaining a passport from the government of the day would take nothing short of a miracle, leaving Nakasa in an impossible situation. As he said in a well-known piece titled, "A Native of Nowhere", "Sometime next week, with my exit permit in my bag, I shall cross the borders of the Republic and immediately part company with my South African citizenship. I shall be doing what some of my friends have called, 'taking a grave step'."
Little did friends and relatives know just how grave that step would be, and how moving away from the land of his birth would affect the psyche of this sensitive writer. Says Gordimer of this emotionally traumatic time for Nakasa: "It was a strange time, the last year in South Africa; on the one hand, he was making a name for himself in a small but special way that no African had done before, his opinions and ideas were being considered seriously by white newspaper-readers whose dialogue across the colour line had never exceeded the command, do-this-or-that, and the response, yes-baas. On the other hand, he had been awarded a scholarship to Harvard and was involved in the process of trying to get a passport – for an African, a year-long game in which the sporting element seems to be that the applicant is never told what you have to do to win, or what it was he did that made him lose."
Eventually, Nakasa "gained his freedom" in the form of an exit permit, and although missing his first flight out of the country, safely made it into the US. He was not crazy about New York and quickly moved on to Cambridge, where life at Harvard was spent "steeped in the somber business of education".
Although the Harvard year was good on the learning front, things went downhill from there. Nakasa grew increasingly homesick, isolated and unhappy, although this was not largely apparent to those around him. Says Patel of his death at the age of 28, "Nat Nakasa's death by suicide on 14 July 1965 was an apartheid tragedy, and a tragedy of exile. After his year at Harvard, he wrote extensively for several newspapers and magazines in the United States. He appeared in the television film The Fruit of Fear, a critique of apartheid, and was to have written a biography of Miriam Makeba. But two days before his death he told a friend, 'I can't laugh any more and when I can't laugh I can't write'."
Nakasa was buried at the Ferncliff cemetery outside New York, not far from the grave of Malcolm X, far from the country he knew and loved so well. Nadine Gordimer sums up Nakasa's contribution beautifully in The World of Nat Nakasa, "The truth is that he was a new kind of man in South Africa, he accepted without question and with easy dignity and natural pride his Africanness, and he took equally for granted that his identity as a man among men, a human among fellow humans, could not be legislated out of existence, even by all the apartheid laws in the statute book, or all the racial prejudice in this country. He did not calculate the population as sixteen millions or four millions, but as twenty. He belonged not between two worlds, but to both. And in him, one could see the hope of one world. He has left that hope behind; there will be others to take it up."
References: The World of Nat Nakasa, edited by Essop Patel (Raven Press). Nat Nakasa, Native of Nowhere (Times Media Productions).