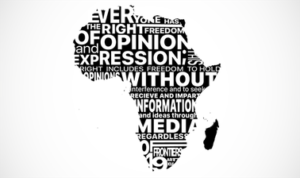 Today we share with you some news about the course "Media Freedom and Freedom of Expression in Africa" created to amplify the legacy of the late South African media activist, Jeanette Minnie.
To respond to the pandemic, a third – and updated – version of this free 7-week course (90 mins a week) kicks off 15 June. Registration is here: http://bit.ly/MediaFreedomAfrica
Besides referencing the new "Declaration on Principles on Freedom of Expression in Africa", there is now a new session titled: "African media in times of the COVID-19 crisis".
It would be really appreciated if you could also promote the course through your networks.
When a vibrant media infrastructure is more important than ever, this free online course can help result in policies that promote affordable internet, protect journalism and support independent media –
especially in Africa.
To highlight some feedback from participants last year:
"The modules were packed with useful and incredibly concise information, with transcripts one can download for keeps. I love the case studies that spoke to each module and how diverse they work (focusing on different African countries). Kudos to the people who set the questions – it was clear they are incredible teachers."
"A new insight to the role of engagement played by civil society to bringing about good governance in their respective countries and the need for it never to relent and continually serve as a watchdog in their respective countries."
A vibrant media system before, during and after the pandemic is mission-critical for African progress. Let's encourage and empower more people to achieve this.
Please click on the links below for more information: 
Link 1:  2020 Course Information Sheet – Media Freedom and Freedom of Expression in Africa
 Link 2 : Graphic 1