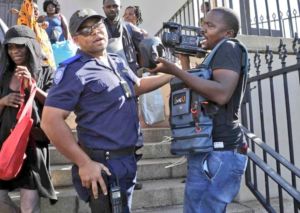 The safety of journalists is one of SANEF's top priorities and is a key component of our Covid-19 programme.
We have gathered a number of important resources that we hope will be of assistance to journalists during this stressful period. Please see below:
As an organisation, we have taken up safety issues through various channels. We have fought the matter through the courts and we have also sought other ways to protect journalists.
Safety and elections
An important component of our elections training in 2019 was dedicated to the safety of journalists.
Access the CPJ South Africa Election Safety for Journalists Toolkit 
https://cpj.org/2019/02/south-africa-election-journalist-safety-kit.php
Safety of journalists and political leaders
SANEF held an important workshop on the matter of safety online in September 2019 with political parties. We invited world-renowned, Indian journalist and Washington Post columnist, Rana Ayyub to be the guest speaker. Also, in attendance was Lawrence Mute, Special Rapporteur for Freedom of Expression and Access to Information in Africa. Independent media law expert, Okyerebea Ampofo-Anti, delivered an input on a possible way forward including crafting a draft MOU to ensure improved terms of engagement.
Access the speaking notes from the 2019 SANEF workshop (create link)
Further, in 2019 we took South Africa's third-biggest political party the Economic Freedom Fighters (EFF) to court to stop online harassment of journalists.
Learn more about the South African National Editors' Forum v Economic Freedom Fighters litigation https://sanef.org.za/litigation/sanef-v-eff/