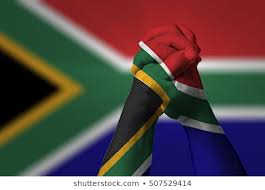 The South African National Editors' Forum (SANEF) and the South African Freelancers' Association (SAFREA) condemn another hostile attack against journalists.
Cape Town freelance journalist, Jacques Marais has informed us of how he was sworn at, his life was threatened and how he was ultimately prevented from covering a lockdown story on Thursday, 9 April 2020, he was doing in Masiphumelele township, in the south of the City.
Marais states, "Yesterday I was following a convoy of a dozen police vehicles and an army Casper vehicle into the warren of alleys and shacks that shapes Masi township on the border of the industrial sprawl of Fish Eagle Park. I saw the police and soldiers spill from their vehicles and descend in droves on pedestrians jostling the pavements… I have blurry images that show the police with sticks beating a man." Marais has shared these pictures with SANEF.
Marais then told SANEF that a police vehicle blocked his car as he followed the convoy further into the township. He pulled over to the side of the road and continued to travel on foot while wearing a clearly official and identifiable press bib. He also held up his camera explaining to one officer that he was a journalist and had his permit, accreditation and his media card. However, the situation got ugly as he reached into his vehicle for his media card.
Marais states, "My vehicle door slammed into my back. I turned around and two men in plain clothes, clearly visible in my photos as part of the police operation, then started shouting and brandishing 1.2m-long wooden clubs. Both men's faces were covered in buffs and I was cursed and threatened for the next couple of minutes".
Marais reports that his media accreditation was hurled back into his vehicle and when he asked one of the men for his name, the man lifted his club and told me to "* or you will die here today". At that point, Marais left the township with his story unfinished. He stated, "I shudder to think what happened when I turned my back and walked away."
SANEF and SAFREA believe that this action by law enforcement officers is wholly unacceptable and unlawful – both as regards the media and South African citizens. We deplore the security forces violence against citizens – these actions fly in the face of all lockdown regulations in place and stand in direct contradiction of our Constitution.
SANEF will make sure that this incident, along with all other incidents of hostility and harassment, is tabled with the National Police Commissioner, Khehla Sitole the Ministry of Police, Bheki Cele, and the Cape Town metro police. Our planned meeting with these parties was halted due to the Covid-19 lockdown but we will now be seeking urgent on-line meetings – within the lockdown rules – to demand that all law enforcement and army personnel be reminded of their role to protect communities and to allow the media to play their critical role of informing the public. We will, once again, strongly remind them that this is a right enshrined and protected in our constitution and one that must be adhered to under the COVID-19 lockdown rules.
Freelancers are particularly vulnerable, without media house backing so we urge them to report any incidents to SANEF, SAFREA or to the freelance organisation, ProJourn so we can take these matters up.
Finally, we would like to highlight the issue of journalists' safety. We refer all journalists and media organisations to the safety tips including on our SANEF website.
We also call on all media organisations to ensure, wherever possible, that they provide trauma counselling for journalists who have been out on assignment. We reiterate the long-term damaging effects of untreated trauma. We have compiled a list of trauma and psychological services for journalists that can be accessed on our website.
Note to editors: The South African National Editors' Forum (SANEF) is a non-profit organisation whose members are editors, senior journalists and journalism trainers from all areas of the South African media. We are committed to championing South Africa's hard-won freedom of expression and promoting quality, ethics and diversity in the media. We promote excellence in journalism through fighting for media freedom, writing policy submissions, research and education and training programmes. SANEF is not a union.
SAFREA is a voluntary, non-profit association for professional media freelancers in southern Africa.
For more information:
Mahlatse Mahlase – SANEF Chairperson, (083) 399-2852
Katy Katopodis – Acting SANEF Chairperson, (082) 805-7022
Moipone Malefane – SANEF Secretary-General (082) 772-5861
Mary Papayya – Acting SANEF Media Freedom Chair (082) 379-4957
Sbu Ngalwa – SANEF Eastern Cape Convenor (073) 404-1415
Janet Heard – SANEF Western Cape SANEF Convenor (078) 041-9528
Hopewell Radebe – SANEF Acting Gauteng Regional Convenor (083) 582-1734
Judy Sandison – SANEF KZN Convenor (082) 571-3334
Kate Skinner – SANEF Executive Director – (082) 926-6404
Lynne Smit, SAFREA Chairperson (083) 299-7383
Thea Aboud, SAFREA administrator [email protected] Web: www.safrea.co.za