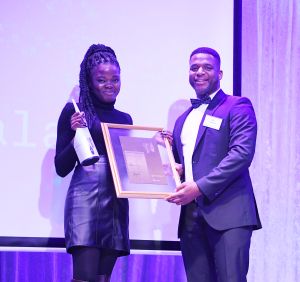 The South African National Editors' Forum (SANEF) held a successful, elective annual general meeting where Eyewitness News editor-in-chief Sbu Ngalwa was re-elected as the chairperson.
Sowetan editor Nwabisa Makunga was elected as the deputy chairperson while New Frame associate editor, Monica Laganparsad, was voted in as the secretary-general.
Tshwane University of Technology broadcast media lecturer Tshamano Makhadi is the new Treasurer-General.
The AGM spent time focusing on the mental health of journalists as they continue to experience various, differing traumas.
SANEF remains deeply concerned about the safety and wellness of frontline journalists who are often the first respondents and witnesses to natural disasters and violence.
During the organisation's AGM, Cassey Chambers, from the South African Depression and Anxiety Group (SADAG), addressed the meeting on the urgent need for newsrooms to attend and prioritise journalists' mental wellness.
Chambers said SADAG is of the view that journalists experience high levels of depression and anxiety, further indicating that they experience more post-traumatic stress disorder (PTSD) than doctors working on the frontline. She said worryingly, journalists often checked all seventeen boxes on the PTSD checklist.
The AGM decided to establish a safety and wellness sub-committee, to be chaired by Katy Katopodis. The committee's focus will be to champion SANEF's efforts to address mental health support journalists and pay special attention to the growing incidences of violence, including personal threats and the cyberbullying of journalists.
Members of the media are encouraged to contact SANEF as and when their freedom to report is infringed upon. The other highlight of the AGM was the address by Dr Patrice Motsepe, president of the Confederation of African Football (CAF). Elected in March last year, Motsepe reiterated the importance of media freedom and how the work of SANEF must be supported. He said any kind of harassment of journalists should be condemned and journalists should not keep quiet when such behaviour occurs.
The AGM also elected the chairpersons of the following sub-committees:
Makhudu Sefara: Media Freedom
Phathiswa Magopeni: Education and Training
Izaak Minnaar: Access to Information and Media Policy
Qaanitah Hunter: Media Ethics and Diversity
Dunisani Ntsanwisi: Community Media
Note to Editors:
The South African National Editors' Forum (SANEF) is a non-profit organisation whose members are editors, senior journalists, and journalism trainers from all areas of the South African media. We are committed to championing South Africa's hard-won freedom of expression and promoting quality, ethics, and diversity in the South African media. We promote excellence in journalism through fighting for media freedom, writing policy submissions, research and education and training programmes. SANEF is not a union.
For more information please contact:
Sbu Ngalwa – SANEF Chairperson (073) 404-1415
Nwabisa Makunga – SANEF Deputy Chairperson (082) 555-1972
Monica Laganparsad – Secretary-General (082) 578-6111
Tshamano Makhadi – Treasurer-General (082) 223 0621
Makhudu Sefara – SANEF Media Freedom Chair (079) 177-2134
Asanda Ngoasheng – Western Cape Convenor – 082 610-9374
Judy Sandison – SANEF KZN Convenor (082) 571-3334
Dr. Glenda Daniels – SANEF Gauteng Convenor (083) 229-9708
Chiara Carter – Acting SANEF Eastern Cape Convenor (082) 659-9162
Reggy Moalusi – SANEF Executive Director (071) 682-3695
Twitter: @SAEditorsForum
Email: [email protected]
Website: www.sanef.org.za