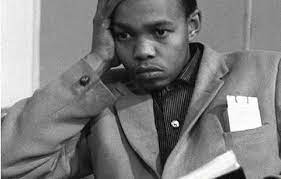 The South African National Editors' Forum (SANEF) is disappointed by news that the eThekwini Municipality has not fulfilled a promise to restore the dedicated tomb of anti- apartheid icon, journalist Nathaniel Nat Nakasa.
His gravesite and that of former Bafana Bafana goalkeeper, Senzo Meyiwa, were vandalised in 2021. Nat, whose legacy is celebrated in SANEF's annual Nat Nakasa Courageous Journalism award, died in Upstate New York in 1965.
At the time he was on a one-way visa in the US, on a Nieman Scholarship, to escape threats to his life under the apartheid regime. SANEF, together with the Nakasa family and a range of stakeholders, worked tirelessly for years to bring the remains back to his childhood suburb of Chesterville outside Durban.
In 2014 his remains were returned to SA for reburial at the Chesterville cemetery Hero Acres site, a fulfilment of his last wish to return home to the country where he was born. Sanef is saddened by the turn of events and calls on the municipality to restore his gravesite – that is considered a shrine to journalism.
He paid a high price for his sacrifices, and everything must be done to restore his final resting place. SANEF has contacted the municipality division that was responsible for the reburial as well as the eThekwini municipality in the hope that the gravesites can be properly restored and bring comfort to all.
SANEF calls on the eThekwini Municipality to ensure better security at the Hero Acres as such vandalism cannot be allowed with criminals running amok and there is no prosecution.
Note to Editors: The South African National Editors' Forum (SANEF) is a non-profit organisation whose members are editors, senior journalists, and journalism trainers from all areas of the South African media. We are committed to championing South Africa's hard-won freedom of expression and promoting quality, ethics, and diversity in the South African media. We promote excellence in journalism through fighting for media freedom, writing policy submissions, research and education and training programmes. SANEF is not a union.
For more information please contact:
Sbu Ngalwa – SANEF Chairperson (073) 404-1415
Adriaan Basson – SANEF Deputy Chairperson (082) 562-2113
Nwabisa Makunga – Treasurer (082) 555-1972
Mary Papayya – SANEF Media Freedom Chair (082) 379-4957
Asanda Ngoasheng – Western Cape Convenor – 082 610-9374
Judy Sandison – SANEF KZN Convenor (082) 571-3334
Katy Katopodis – SANEF Gauteng Convenor (082) 805-7022
Chiara Carter – SANEF Eastern Cape Convenor (082) 659-9162
Reggy Moalusi – SANEF Executive Director (071) 682-3695
Twitter: @SAEditorsForum
Email: [email protected]
Website: www.sanef.org.za