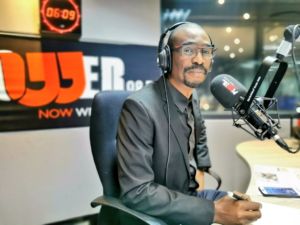 The South African National Editors' Forum (SANEF) is deeply saddened to learn of the death of legendary broadcaster, Bob Mabena on Monday 10 August 2020.
Mabena was POWER 98.7's breakfast show host. According to the radio station's management, he died on Monday from cardiac arrest. He was 51 years old.
Mabena started his career in 1989 at Radio Bop. He also worked on radio stations such as Metro FM, Kaya FM and Highveld Stereo. He took South Africa by storm as the host of popular Studio Mix with Melanie Son (now Bala). He was the programmes manager for the MSG Group which includes Capricorn FM in Polokwane.
Barely two weeks ago, Mabena released his 12-track compilation album, "Jammers House Volume 1" in honour of his wonderful career.
SANEF extends condolences to his family, friends and multitude of fans.
Note to Editors: The South African National Editors' Forum (SANEF) is a non-profit organisation whose members are editors, senior journalists and journalism trainers from all areas of the South African media. We are committed to championing South Africa's hard-won freedom of expression and promoting quality, ethics and diversity in the South African media. We promote excellence in journalism through fighting for media freedom, writing policy submissions, research and education and training programmes. SANEF is not a union.
For more information please contact:
Mahlatse Mahlase – SANEF Chairperson, (083) 399-2852
Katy Katopodis – SANEF Deputy Chairperson, (082) 805-7022
Moipone Malefane – SANEF Secretary-General (082) 772-5861
Mary Papayya – SANEF Media Freedom Chair (082) 379-4957
Sbu Ngalwa – SANEF Eastern Cape Convenor (073) 404-1415
Janet Heard – SANEF Western Cape Convenor (078) 041-9528
Hopewell Radebe – SANEF Gauteng Regional Convenor (083) 582-1734
Judy Sandison – SANEF KZN Convenor (082) 571-3334
Kate Skinner – SANEF Executive Director – (082) 926-6404
Twitter: @SAEditorsForum
Email: [email protected]  Website: www.sanef.org.za