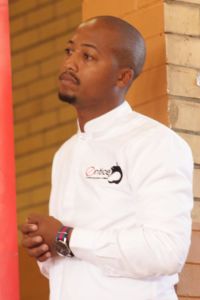 The South African National Editors' Forum (SANEF) and the community media are deeply saddened to learn of the death of community media activist and editor, Mr. Lefa Mohale.
The 33-year old Soweto born Mohale died On Thursday, 18 June 2020 on his way to the hospital after a noticeably short illness.
Mr. Mohale joined Entice Communications and Media as a Senior Photographer and worked his way through the system until he got into the actual compilations of newspaper articles. He founded and published his own Town Talk News publication and joined the Association of Independent Publishers (AIP).
According to Nontando Mokoena of the AIP, Mohale will be remembered for his quiet personality and the gentleman-attributes that he possessed. It was easy working with him.
His former associate Modise Lobelo from North West recalled: "I first met him during a Photo-Journalism training at Media24, Jhb.  He had so many ideas on how to grow the newspaper."
Lobelo said he was not surprised when Mohale established his own newspaper.
Mohale is survived by his wife Tshepi Nthinya, the Editor-in-Chief of Soweto Today and Midrand General News and their 3-year old daughter.
SANEF joins our colleagues in the media in expressing sincere condolences to his family and friends.
Note to Editors: The South African National Editors' Forum (SANEF) is a non-profit organisation whose members are editors, senior journalists and journalism trainers from all areas of the South African media. We are committed to championing South Africa's hard-won freedom of expression and promoting quality, ethics and diversity in the South African media. We promote excellence in journalism through fighting for media freedom, writing policy submissions, research and education and training programmes. SANEF is not a union.
For more information please contact:
Mahlatse Mahlase – SANEF Chairperson, (083) 399-2852
Katy Katopodis – SANEF Deputy Chairperson, (082) 805-7022
Moipone Malefane – SANEF Secretary-General (082) 772-5861
Dunisani Ntsanwisi – SANEF Community Committee Convenor (073) 981- 8649
Mary Papayya – SANEF Media Freedom Chair (082) 379-4957
Sbu Ngalwa – SANEF Eastern Cape Convenor (073) 404-1415
Janet Heard – SANEF Western Cape Convenor (078) 041-9528
Hopewell Radebe – SANEF Gauteng Convenor (083) 582-1734
Judy Sandison – SANEF KZN Convenor (082) 571-3334
Kate Skinner – SANEF Executive Director – (082) 926-6404
Twitter: @SAEditorsForum
Email: [email protected] Website: www.sanef.org.za