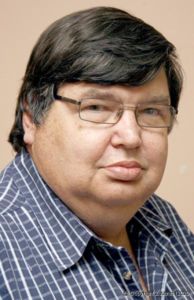 The South African National Editors' Forum (SANEF) and community media mourn the death of veteran editor, Wikus Lee (64) of the Limpopo Mirror. Lee died after a long battle with a heart problem on Wednesday last week.
He was a seasoned journalist who mentored and interacted with various generations of young local reporters in the province. As editor of the Mirror he provided guidance and training to dozens of journalists. He was highly respected for his editorial knowledge and work ethic.
Anton van Zyl, owner and manager of the Limpopo Mirror, said it was almost impossible to think of the newspaper business in the region without Wikus's wisdom and input.
"For more than 30 years he has been a colleague and a friend. For him, the newspaper was not simply a job, it was part of what made him what he was. His work was his passion and the Mirror newspaper was his pride. He was someone with an incredible general knowledge," said Van Zyl.
Lee is survived by his wife and three sons.
SANEF sends heart-felt condolences to Lee's family, friends and colleagues.
Note to Editors: The South African National Editors' Forum (SANEF) is a non-profit organisation whose members are editors, senior journalists and journalism trainers from all areas of the South African media. We are committed to championing South Africa's hard-won freedom of expression and promoting quality, ethics and diversity in the South African media. We promote excellence in journalism through fighting for media freedom, writing policy submissions, research and education and training programmes. SANEF is not a union.
For more information please contact:
Sbu Ngalwa – SANEF Chairperson (073) 404-1415
Adriaan Basson – SANEF Deputy Chairperson (082) 562-2113
Mahlatse Mahlase – Secretary General (083) 399-2852
Nwabisa Makunga – Treasurer (082) 555-1972
Dunisani Ntsanwisi – SANEF Community Committee Convenor (073) 981- 8649
Mary Papayya – SANEF Media Freedom Chair (082) 379-4957
Judy Sandison – SANEF KZN Convenor (082) 571-3334
Katy Katopodis – SANEF Gauteng Convenor (082) 805-7022
Chiara Carter – Eastern Cape Convenor – 082 659 9162
Kate Skinner – SANEF Executive Director – (082) 926-6404
Twitter: @SAEditorsForum
Email: [email protected]  Website: www.sanef.org.za