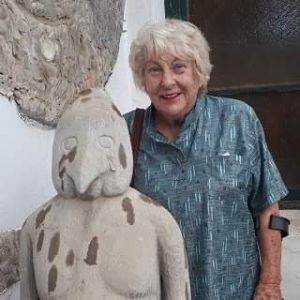 The South African National Editors' Forum (SANEF) sadly notes the passing of legendary veteran journalist, Shirley Woodgate, who passed away on June 16 at the age of 90 after being diagnosed with advanced cancer.
Shirley only started her career in journalism at The Star at the age of 50, but soon became known for her excellent skills in covering a host of different topics and events. She was best known for her quirky, humorous and witty pieces.
"I met Shirley while we were both covering the City of Joburg council meetings in about 1990 while I was with Caxton newspapers.  When an opening came up at The Star, she put in a good word for me which helped me get the job. All I aspired to in those days was to become as good a journalist as Shirley who, besides me, mentored many other youngsters in the field," her long-time friend and colleague at The Star Anna Cox said.
"With both of us being keen foodies, we soon started having regular lunches. We decided upfront that we would never go back to the same restaurant twice so we could explore a variety of tastes. Over these long years, we have been to hundreds of eating establishments," she added.
Former colleague Joanne Collinge described Woodgate as a journalist with "a palpable" interest in people. "Those she met felt it. They opened to her, she listened . . . and often asked unsettling questions."
She said her reporting was coloured by sharpness, compassion and wise judgement, qualities that drew younger reporters to her.
"Shirley had a passion for politics. Her extensive local government reporting gave her a partial outlet for this – but she had a thirst for the big nation debates," explained Collinge.
In retirement, until shortly before her death, she was still firing pointed and unanswerable questions in prolonged discussions, searching for the story behind the big news of the day, she said.
Esmare Weideman said it was sad to hear that her "wonderful friend and mentor" from Star days had passed away. While many of Shirley's friends and colleagues are in shock and mourning right now, one thing they share when we think of Shirley was her "big smile".
"When I joined The Star newsroom in the late 80s my desk was next to Shirley's. I couldn't have wished for a better tutor or a safer space. She was kind, she was wise, she was funny, and she was a damn fine journalist," she said.
She said Shirley was everything a rookie newspaper journo could have hoped for in a newsroom partner.
"From her, I learnt hard work pays off, contacts are everything, never to miss a deadline and always to check your spelling. Also, with politicians, that it sometimes works to play dumb cos that's how you get the info you really want," Weideman recalled.
I had the pleasure of reconnecting with Shirley for the past 2 years. She remained as chirpy, feisty, energetic, and inquisitive as ever.
Former colleague Sumitra Cruz described her as the epitome of professional journalism. Always surrounded by newspapers wherever she was. She worked the early morning shift at The Star which meant that all the breaking stories of the day had her byline on it. Shirley was a mentor to many young journalists and had a profound impact on many.
"I remember Shirley in so many forms; the serious journalist and the fun, loving, humorous, forever young friend to everyone she contacted. Her lengthy, late-night calls to me always ended with "I wonder what the newspapers lead story was going to be the next day," she said.
Helen Grange said she regarded Shirley Woodgate as her 'other mother' when she was a green journalist at The Star in the 80s/90s.
"An excellent journalist, with an eye for the detail in between the obvious, it was from her that I learnt to look for the stuff that hadn't been scripted, and to not take it all too seriously, to tackle life head-on but with a good dose of irreverence and humour."
"Around her, I always felt secure and protected, as her empathy was maternal and intuitive through that mischievous, ubiquitous smile. There are few wise women left in my world, and she was among the wisest and kindest. A True North star. Go gently, Shirley Braveheart," she said.
Edwin Naidu, said on his facebook platform, the world has lost a gem as she was always sprightly and with a wonderful smile, and a shining example as a journalist on the Star newsroom.
SANEF expresses its heartfelt sympathies to friends, family, and colleagues in the media fraternity.
ENDS