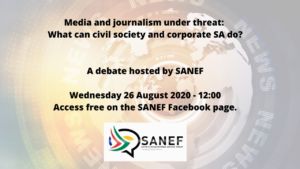 On Saturday,22nd August, the South African National Editors' Forum (SANEF) honoured all journalists and media professionals with the 2020 Nat Nakasa Award in recognition of their service and commitment to their craft and to keeping South Africans informed while on the frontlines during the Covid-19 pandemic.
In celebration of the award and the brave work of our media, SANEF commissioned and aired a documentary special (view here) across leading news broadcasters and online news platforms.
Following the documentary, SANEF hosted a webinar on Wednesday, 26 August 2020, as a follow-on from the documentary to discuss the key issues raised in the film.
The webinar, "Media and journalism under threat: What can civil society and corporate SA do?" provided a platform for key individuals to debate and discuss the main challenges currently faced by our media, including: the severe threats to the media that existed before Covid-19 and how they have now been further exacerbated; the implications of a weak media sector for our democracy, as well as addressing the role of the media in our society; the need for corporate and private sector support; and the impact that the pandemic has had on an already weakened industry.
Watch the webinar here: https://www.facebook.com/watch/?v=2697064203885243&extid=JjlQ3Mp1cZkEgXmw