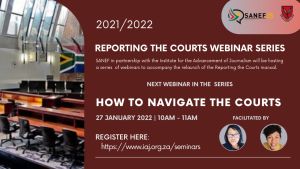 REPORTING THE COURTS WEBINAR SERIES SANEF in partnership with the Institute for the Advancement of Journalism is hosting a series of webinars to accompany the relaunch of the Reporting the Courts manual.
The next instalment in the Reporting the Courts webinar series will take place on 27 January.
This session will include insights from:
Mthunzi Mhaga – Special advisor and spokesperson to the NPA
Yvonne van Niekerk – Director of court administration at the Office of the Chief Justice 
Karyn Maughan – Legal journalist at Media24
Chrispin Phiri – Ministry of Justice spokesman
The session will be facilitated by Dianne Hawker and Dr Candice Bailey. 
Register Here: https://www.iaj.org.za/seminars