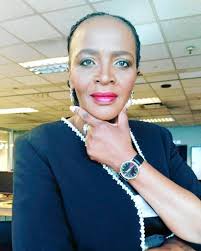 The South African National Editors' Forum calls on the leadership of the Zimbabwe African National Union – Patriotic Front (ZANU–PF) to step in and discipline its Director of Information and Publicity, Tafadzwa Tuboy Mugwadi, who is assaulting media freedom and freedom of expression daily on social media.
SANEF has sadly noted the blatant sexist and misogynistic vitriol directed from Mugwadi to SABC Foreign Editor Sophie Mokoena in a bid to intimidate, harass and stop her from doing her job of reporting on Zimbabwe and the continent.
Mugwadi seems to have taken it personally that Mokoena asked tough questions about the whereabouts of Zimbabwe President Emmerson Mnangagwa amid the Coronavirus crisis in the country.
SANEF advises both Mugwadi and the ZANU-PF to direct their complaint, if any, about Mokoena's reporting to the SABC management and the Broadcasting Complaints Commission of South Africa (BCCSA).
In September 2020, we expressed our serious concern about the vicious online and social media trolling of women journalists and media workers in Zimbabwe. At the time, we cautioned against the tweets by George Charamba, the Press Secretary in the Office of the President of Zimbabwe and Permanent Secretary in the Ministry of Information of Zimbabwe, who was behind the attacks on Mokoena and a colleague, Peter Ndoro. We cautioned that Charamba's actions – assisted by Nick Mangwana, Secretary for Information in Zimbabwe – were creating significant professional harm. We asked them to stop.
And now Mugwadi has taken over the job of intimidating, sowing disinformation and discrediting the integrity of news media outlets that report on Zimbabwe's political and administrative crises.
Recently, the International Women's Media Foundation (IWMF) and the Organization for Security and Co-operation in Europe (OSCE)'s Office of the Representative on Freedom of the Media noted that female journalists and bloggers throughout the globe are being inundated with threats of murder, rape, physical violence and graphic imagery via email, comment sections and across social media platforms.
This affects all elements of democracy, which thrives when a plurality of voices are reflected online. Yet, one group of voices has come under attack in the most disturbing and dangerous of ways.
SANEF joins world organisations defending media freedom and freedom of expression in efforts to bring awareness of the issue to the African Union's participating States, media companies and civil society about the growing threats to female journalists with widespread repercussions including them opting out of reporting on certain issues, leaving social media and retreating into silence.
Hopewell Chin'ono's third arrest
SANEF also calls on Zimbabwe police to stop the relentless intimidation and harassment of journalist Hopewell Chin'ono, who was arrested for the third time on Friday 8th January 2021 for doing his job. We call for his unconditional and immediate release.
Chin'ono tweeted upon his arrest: "They say they are charging me with communicating falsehoods for tweeting that a child had been beaten up and died by a police officer! They are taking me to the Law-and-order section at Harare Central Police Station."
Chin'ono was among many Zimbabweans who tweeted about the incident, demanding answers.
In response, the police offered a different version of events in a statement.
Chin'ono was first arrested in July on charges of inciting violent anti-government protests. He was arrested again in November on charges of obstructing justice.
The multiple award-winning freelance journalist and documentary filmmaker, who works mostly for British and SA broadcasters. was freed on bail awaiting trial for both cases. Chin'ono is a critic of President Emmerson Mnangagwa's rule. He has a large social media following and has helped expose corruption involving Covid-19 funding.
SANEF believes that this hostile environment is a direct attack on freedom of expression.
Note to Editors: The South African National Editors' Forum (SANEF) is a non-profit organisation whose members are editors, senior journalists and journalism trainers from all areas of the South African media. We are committed to championing South Africa's hard-won freedom of expression and promoting quality, ethics and diversity in the South African media. We promote excellence in journalism through fighting for media freedom, writing policy submissions, research and education and training programmes. SANEF is not a union.
For more information please contact: 
Sbu Ngalwa – SANEF Chairperson (073) 404-1415
Adriaan Basson – SANEF Deputy Chairperson (082) 562-2113
Mahlatse Mahlase – Secretary General (083) 399-2852
Nwabisa Makunga – Treasurer (082) 555-1972
Mary Papayya – SANEF Media Freedom Chair (082) 379-4957
Chiara Carter – SANEF Eastern Cape Convenor (082) 659-9162
Katy Katopodis – SANEF Gauteng Convenor (082) 805-7022
Judy Sandison – SANEF KZN Convenor (082) 571-3334
Asanda Ngoasheng – Western Cape Convenor – 082 610 9374
Kate Skinner – SANEF Executive Director – (082) 926-6404
Twitter: @SAEditorsForum
Email: [email protected]  Website: www.sanef.org.za